ESTONIA
Iskander ballistic missiles to be deployed 120-200 kilometers from Russia's borders with Estonia and Latvia
"Russian ground forces chief, Colonel General Alexander Postnikov, said that Iskander ballistic missiles would be deployed at the town of Luga in Leningrad Oblast, approximately 120-200 kilometers from Russia's borders with Estonia and Latvia, reports Russian newspaper Kommersant. Postnikov stressed that this move had nothing to do with the planned deployment of the U.S. surface-to-air Patriot missiles in Poland. The deployment of the Iskander missiles in Leningrad Oblast is being done i …"
http://www.baltictimes.com/news/articles/24881/
Latvia, Estonia push for Baltic nuclear plant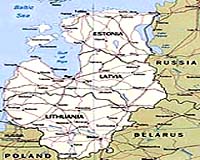 The Baltic states' leaders and the heads of their national energy
"Latvia and Estonia Wednesday are tired of delays to a four-nation nuclear power plant project which is meant to help the Baltic states reduce the energy clout of their Soviet-era master Moscow.(…) The Baltic states of Latvia, Estonia and Lithuania, plus fellow 2004 European Union entrant Poland, have pledged to build a replacement for a Soviet-era nuclear power plant in Lithuania. Lithuania agreed to close the plant, located near Ignalina in the east of the country, by the end of year 2009 under the terms of its EU admission.
 The goal has been to bring the new plant online by 2015, although experts suggest 2017-2020 is more realistic because progress has been slow, notably amid wrangling over each country's share of the output…"
The Paldiski Naval Base housed two small reactors
A Soviet era nuclear submarine training facility at Paldiski, Estonia has been storing nuclear waste at a sight in Saku, Estonia. It has become a raiding ground for illegal metals traders.  Since the fall of the Soviet Union, maintenance and security at the Saku storage facility has deteriorated.  Access to the 72 hectare site is virtually unimpeded, and several highly radioactive materials, that have been found in Estonia, Sweden and Finland, have been
traced back to Saku. This situation is only one example of several like sites which present a threat of nuclear contamination to the region and possibly the world, depending on the range of dissemination of the materials.
5th International Conference on Waste Management and the Environment 
12 Jul 2010 → 14 Jul 2010; Tallinn, Estonia
 Organised by Wessex Institute of Technology, UK
U.S. and Estonia Cooperate to Prevent Smuggling of Nuclear and Radioactive Material
"The United States and Estonia have an agreement to coordinate efforts to prevent nuclear smuggling by installing radiation detection equipment at multiple border crossings in Estonia.  The agreement expands on similar U.S.-Estonian cooperation.
The Department of Energy's National Nuclear Security Administration (NNSA) has been working with the Estonian Tax and Customs Board over the past several years to…"